I never cared much about this show, but lately it's really been impressing me. The sets and lighting are awesome, and it's funny. The show ran from 1964 to 1966, and I keep wondering if it might possibly have been a response to the Civil Rights Movement happening at the time.
I just watched the episode "Rock-a-Bye Munster." This episode kicks ass for a number of reasons, not least of which is the first appearance and revealed origin of the Munster Mobile. Also, Paul Lynde is a guest star. Bees and I really like Paul Lynde.
But, back to the Munster Mobile. Lily goes to a car lot to get a new ride for Herman, and when she's there she sees a couple of old cars and has them fused together to her specifications to make the Munster Mobile. So, she dreamed up the car! It was her idea!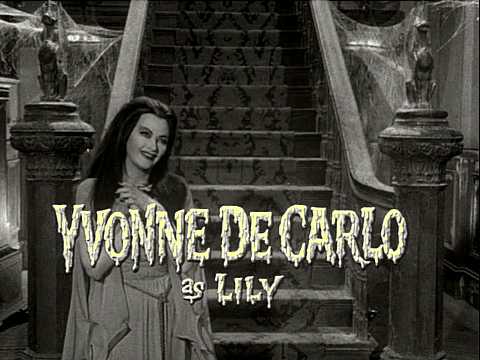 Somehow, that makes her and the car a lot cooler.